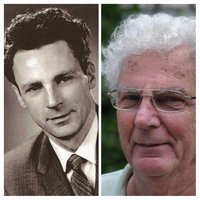 Percy Godsoe
It is with sad hearts that the family of Percy E. Godsoe announces his passing in his 88th year on July 20, 2020, at the Saint John Regional Hospital. He leaves behind his wife of sixty-eight years, Marcia (Steeves), and their three daughters Deborah, Karen (Armel), and Phyllis and two sons Richard (Helene) and Douglas (Pamela), nine grandchildren and four great-grandchildren.
Percy was born in Moncton, NB September 27, 1932, to Percy and Gertrude Godsoe. He moved to Saint John to work as an engineer for NBTel. He later ran his own management business, Training and Development Institute. His dedicated concern for youth was seen in his volunteer work as a Scout Leader, District Commissioner for Scouting, Saint John Ambulance Trainer, and President of the Saint John Boy's and Girl's Club. For his service, he was awarded the Saint John Ambulance Serving Brother Award by the Governor-General. He and Marcia opened their home to over fifty foster babies and daycare children. Their home was a welcome haven for many foreign students and refugee families. In his younger years, he was an active worker at Portland United Church.
We know our friends are sympathetic to our loss, and we thank them for their concern and support. We are also thankful for the wonderful care from the Extra-Mural Nurses, Dr. Niazi, and the staff of the Regional. There will be no funeral.