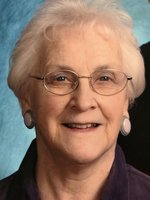 Doreen L. Beale
It is with deep sorrow our family announces the passing of Doreen L. Beale of Saint John at Bobby's Hospice with her loving family by her side.
Doreen was the daughter of the late William and Florence (Vautour) Gogan.
Mom loved her community of Randolph and The City of Saint John. She lived an active, vibrant life filled with her family and friends. She was involved with numerous associations such as The Denis Morris Memorial Home and School Association, Denis Morris Memorial Community Centre (instrumental in its purchase in 1983 with her late friend Joan Kelly), The CWL (member for over 55 years) and The Liberal Party. She was always ready to give a helping hand to those in need of her time and support and did so with kindness, generosity and grace. She always put others ahead of herself and is a role model to us all. Mom was a woman of strong faith and was a life member of St. Rose of Lima Parish. She was recognized in 2016 by The City of Saint John for her Outstanding Volunteer Service to the City and as well in 2019 for her lifelong volunteerism. We are so proud of her for all her contributions to her community. She loved playing cards, bridge and working/playing Wednesday and Sunday bingo at DMCC. She enjoyed knitting, was renowned for her baking creations and fancy sandwiches. She looked forward to watching her hockey team "The Pittsburgh Penguins", curling, game shows and the Young and the Restless. For over 30 years, Mom enjoyed the ATV, Skidoo and many social activities at the camp "Inkwell" on McDougall Lake with Dad. She was thoroughly involved in The McDougall Lake Campers Association in which she and Dad were part of its formation.
Mom kept in close contact with her children, grandchildren and great -grandchildren keeping up to date with all the events happening in our lives, always with humour, laughter, love and support. We are all truly blessed to have her as our loving Mother and Grandmother.
Mom will be lovingly remembered by our Dad Douglas, her devoted husband of 63 years; children, Catherine Beale, Brian Beale (Kathryn) and Heather King (Wayne). Her cherished Grandchildren, Christa Diamond (Greg), Katelyn Murray (Kirk), Lesley Baker (Levi), Meaghan Melanson, Andrew Beale and his mother Susan. Great-Grand Children, Graham, Hugh, Wyatt and Baby Girl Murray (summer 2020). Sister Jeanette Woods (Joseph), Sister in laws Marcella Osborne and Emma Beale.
She will also be dearly missed by her God Children, Jo Ann Wiggins, Natalie Hanson, Allan Parker, Phil Parker (Brother in Law) and the late Mark Thomas. Her Aunt and special friend Laurette Gogan, her special friends, Gladys Murphy, Hughleen Long, Ann Marie Beale, Doreen Gogan, Johnny and Norma Knight, Ben and Peppy Carol, Yvonne Theriault and Gloria Ernst. Many nieces, nephews, cousins and friends.
In addition to her parents, she was predeceased by her parents in law, Roy and Margaret (Shannon) Beale, her sisters Anne Marie Parker and Edna Bordage, brother Patrick Gogan, sister in law Sandra (Beale) Cormier, brother in laws Raymond Beale, Elzie Bordage and Joe Osborne, God Parents Edward Boudreau and Mary Murphy as well as many other members of her family.
The name "Doreen" given to our Mother, Wife and Sister was perfectly fitting for her. An intuitive and clever lady, strong in body and mind. She will be forever in our hearts.
The family wishes to send a special thank you to all who visited, brought meals and provided support during Mom's illness, NP Erica McDonald for her outstanding care given to Mom, the Extra Mural nurses and to the staff at Bobby's Hospice for their compassionate care.
By request there will be no funeral home visitation. A Mass of Christian Burial will be celebrated on Thursday, July 23, 2020 from Holy Spirit Parish (St. Rose of Lima) at 11:00 am. Due to COVID-19 the mass will be by invitation only, a reception will follow at a later date. Interment will take place in Holy Cross Cemetery. Memorial donations may be made to The Denis Morris Memorial Community Centre, The Bruce Melanson Scholarship Fund, The St. Rose of Lima CWL and Bobby's Hospice. Arrangements are under the care of Brenan's Funeral Home 111 Paradise Row, Saint John, NB (634-7424).