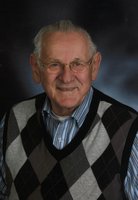 Glen McKenney
After a brief sickness with lung cancer, Captain of the Brimich, Glen, passed away in palliative care on July 30th, at the Saint John Regional Hospital. Glen was born and brought up in Fairhaven, Deer Island. He was a son of the late Howard and Beula (Eaton) McKenney.
Glen travelled the Atlantic Region selling to the automotive aftermarket. He was a member of the Saint John Y Service Club. Two loves of Glen were spending his winters in Florida and time spent on his boat the "Brimich". When at home, the Coffee Club and YMCA would get Glen's day off to a start, then it was off to the boat club. He was an Honorary member of the Saint John Power Boat Club (61 years), acted as Commodore for 3 years and spent many terms on the Club's executive.
Glen was a member of St. Luke's Anglican Church on Main Street.
Glen is survived by his wife Marjorie (nee Hurley), sons Brian (Sandra) and Michael (Erin), Quispamsis, grandsons, Devan (Danielle) Halifax, Aaron and Marcus, plus great-grandson Henry. Also his siblings, Donald (Sharron), Chance Harbour, Deanna (John) Emmerson, Rothesay, and sister-in-law Josie Bolton (Ted), Vancouver. Glen was predeceased by his parents Howard and Beula (Eaton) McKenney of Deer Island and brother-in-law Stewart Hurley of Saint John.
Arrangements are under the care and direction of Brenan's Funeral Home, 111 Paradise Row, Saint John (634-7424) with visitation from 4 PM to 8 PM on Tuesday, August 4th. Guests are asked to enter the funeral home using the courtyard entrance, where staff will greet and assist you with Covid-19 protocol. Funeral service will be held at St. Luke's Church, 369 Main St. on Wednesday, August 5th at 11 am. The service will be livestreamed and will be able to be viewed on Brenan's website and clicking on Glen's obituary. Interment following service at Fernhill Cemetery. In lieu of flowers, remembrances may be made to St. Luke's building fund, Canadian Cancer Society or a charity of the donor's choice.www.BrenansFH.com.