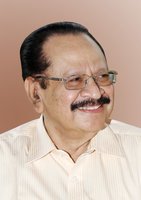 Dr. Kuriakose Paulose
With heavy hearts, but also appreciation for a life well-lived, the family of Dr. P. Kuriakose announce his unexpected passing on Saturday, November 21, 2020 at the Saint John Regional Hospital, Saint John, New Brunswick, Canada. Born in Puthupariyaram, Kerala, India on March 20, 1946, he was a son of the late P. T. Paulose and Annamma Paulose and brother of late P. Thomas.
Dr. P. Kuriakose was a fun loving, charismatic, caring, passionate individual who loved his family to its core. He is known to be deeply passionate about individuals in his community and took on leadership roles in all his undertakings. In his field, his singular focus was patient care. All his efforts were geared towards betterment of individuals. He believed he could make a difference in his community through his efforts in the field of medicine. He was also a great listener and played a major role in mediation that helped mend interpersonal relationships in the community he served.
He was born into a farming family with 7 siblings. With limited resources at the family's disposal, he pursued medicine and graduated from Kottayam Medical College in 1973. He found love and married in the year 1974. Family was near and dear to him and always remained his primary focus. He took deep care in ensuring his family's wellbeing and played an integral role in the wellbeing of his immediate and extended family.
During his early years as a doctor, his core focus was to make medicine
accessible in rural areas. As such, he chose to set up practice in the village of Piravom, where limited medical resources were available. He established a 50 bed hospital and provided comprehensive general medical care between the years 1974 - 1985. He was thoroughly passionate about patient health and never hesitated in providing free medical care for those in need. His commitment to care is well known and was unselfish with his hours of work. He tirelessly worked around the clock through days and weeks for the betterment of individuals who
needed his services. In the late 80's, he specialized in Dermatology and
expanded his medical practice. He employed other specialists in his hospital that included a Gynecologist and a Pediatrician. His contributions to medicine also included his time spent in key positions with Indian Medical Association and Indian Dermatological Association.
His philanthropic efforts included his time spent as a president of Y's Men's Club. He also loved technology and enjoyed learning, adapting to technological changes to help him with his efforts. He was very active in social media and his inspirational quotes are well followed and appreciated. His sense of humor was evident with the humorous videos
that he created that serve as a testimonial of his efforts to spread cheer.
Kuriakose is survived by his loving wife, Latha Mammen; son, Dr. Renju Kuriakose (Jeena Renju); grandchildren, Naysa Renju and Naila Renju; brothers, P.James (Vijy James) and Ajith Paul (Anitha Ajith); sisters: Saramma Mathai (T.M. Mathai), Mary George (V.V. George), Leela Varghese (late Benoy Chathuruthy) and Lily George (A.G. George); as well as sisters-in-law, Anna Thomas and Suma Philip; nephews: Suraj Thomas (Sara), Starwin Thomas (Sanju), Rakesh Mathai (Tina), Shebin George (Elizabeth), Paul George (Shreya), Anil Varghese(Chinchu), Anoop George (Simi), Paul James (Merin) and Paulose Ajith; and nieces: Indu Panicker (Manoj), Sindhu Thomas (Thomas), Kochumol, Anjali Vicy (Vicy), Anu Mojin (Mojin), Anupama Stewart (Stewart), Annu Anand (Anand) and Aishwarya.
Resting at Brenan's Funeral Home, 111 Paradise Row, Saint John, NB (506-634-7424). Due to current health advisories, visitation will take place on Tuesday, November 24, 2020 by invitation only. The funeral service will be held privately on Wednesday, November 25, 2020 at 9 am from St. Luke's Church, 369 Main Street, with Bishop Thomas Mar Athanasius presiding from India. A livestream of the service will be available for those unable to be in attendance by clicking on his obituary on Brenan's website. Interment will follow in Fernhill Cemetery.
www.BrenansFH.com