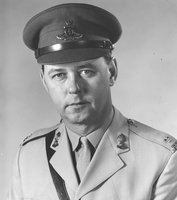 John Bruce McCanse
Dad departed Saturday 21 November at 5:10 PM. A private service will be held because of the virus.

Goodness, joy and love to you.

A hard journey, all of you may know ...

However, for a new Maritimer, my father, J. Bruce McCanse joined the many called, and worthy through believing and actions.

Maritime Person of the Age: reached 91 starts with his birth to Marjorie and Roy McCanse. Roy, last of Hemmingford's blacksmiths. There were many.
John Bruce's mother Marjorie hailed from Gardiner, Massachusetts from the Rutherford-Getez family, famous for the great work of America's research systems classifications and science knowledge.

John Bruce is pictured a happy confident young boy. You could see his looks. Raised in Hemmingford, Provence Quebec, thru Huntington Academy into McGill. Bachelor of Sciences thesis in plant pathology, he disliked nuclear, chemical, biological warfare and he opted for gunnery. After arriving at Shilo he joined the Korea conflict in 1950. As Duty Officer, was awarded presidential citation; performed directed fire on the enemy in the act of saving allied forces. Then serving Lebanon and Syria, India and Pakistan United Nations through Ottawa and Saint John.

Who would blame him once he saw my mother. The Saint John girls based to Utopia, danced with the Officers, roamed the Bay of Fundy coast and eventually married, toured Germany and Europe. He now leaves those lives he felt responsible for. Those he influenced with his knowledge and actions. Joshua, dividing and naming the lands of the nation, wave a Canadian flag for him, and for all that a man working with God was able to do for us.

From out of Ottawa, the Men's Club and ranks of Executive the Nations Treasury-Secretariat, we think of Military Bases, Post Offices, RCMP Dets, all public lands and property. Think of Bruce Peninsula and James Bruce waterfall. Fellow The Real Property Institute of Canada. He was also honoured with the Public Service Efficiency Medal at a very high level.

An awesome life through love and intellect as always. He had a photographic memory and suffered the price with tell tail signs. He took his retirement in Grand Bay-Westfield.

One God and of his people, given to Christ the people, the life of this man. Maritimer of the week month and year, all the same time in the year of Korean Soldier at TD Station.
Through nearly 60 years married life. Grand Bay wasn't Moms idea of her home on Garden, Winter, Sewell, Coburg or Charles Streets or Upham as all her people had left from. Answering phones, weekends and nights, their memories of 20-year snow birds, South Florida, others there learned to read or the alphabet as they needed.

Many stops of Saint John tour busses to their home. Project Communities in Bloom Grand Bay-Westfield and tour guide operations of the city, saw a happy hand-full of US Bucks from uptown and surrounding countryside, with stops on Ash-Glen Lane.

I'd also like to mention the transformation made from a small apt PMQ in Petawawa, ON. What now, is there to say about, He and Mom, so special and unique, knowing he'd been off the rails if not for his wife, Theresa. I know her class won the bible. Dad, my father Bruce, would just like to say "thank you, for having us".

I feel all is God's work and all, his plan, given the promises of the Father made fulfilled in the plan, as it should, as the universe unfolds, a life complete on many levels.

One note from his royal lines of life "When the lion shows it's teeth, it doesn't necessarily mean it's smiling". Thank you to his nieces Cindy and Crystal of Saint John, N.B. and the many, many who touched Mom's and Dad's lives. "thank you, for having us".