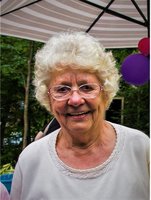 Mary Kappelmann
It is with a heavy heart that we announce the passing of Mary Kappelmann on April 7, 2021 at the Saint John Regional Hospital. She was a resident of Howe Hall at Shannex Parkland in Millidgeville, and formerly of Donaldson Street for 59 years.
Mary was born in Grassau, Bavaria, Germany on February 11, 1922 to the late Mathais König (d.1960) and Maria (Lindmeier) König (d.1995).
Mary came to Canada in 1955 to start a new life. She met her future husband Kurt who was also from Germany the following year and were married a year later. Their daughter Ruth was born a year later. They came to Saint John in 1959 where she lived for the last 62 years. Mary learned to speak English and to read and write quite quickly in her new language. She made many friends over the years. She was best known for her Mocha Tortes and her coffee. She loved spending her summers at her cottage on Lake Utopia. She loved to cook and bake for family and friends. In the winter, she would knit Afghan blankets that she would give away to her family and friends. She lived her life to the fullest.
She is survived by her daughter Ruth (Terry) Saulnier, her granddaughter Elaine Saulnier of Saint John, and her grandson Paul Saulnier of Calgary, Alberta. She is also survived by her two nieces Doris (Hubert) Weber, and Angela Von Twingilo Lutten, both of Germany and many nieces, nephews and cousins.
She was predeceased by her husband Kurt Paul Kappelmann (d. 1977), her son Walter Kurt Kappelmann (d. 2013), her sister Leni Pilkan (d. 2013), her brother Mathais (Hais) König (d. 2000), and nephew Otto Pilkan
(d.2002).
The family would like to extend their heartfelt gratitude and thanks to the staff of Howe Hall and the staff of 4B South and Palliative Care 3B North at the Saint John Regional Hospital.
Arrangements are under the care of Brenan's Funeral Home, 111 Paradise Row, Saint John (634-7424). Memorial Visitation will be held on Saturday, April 10, 2021 from 1 pm – 3 pm. Interment will take place at Fernhill Cemetery on Monday, April 12, 2021 at 11 am. Donations in Mary's memory may be made to a charity of the donor's choice. Please place online condolences and remembrances at www.brenansfh.com