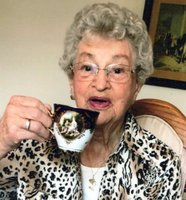 Doris May (Murphy) Stewart
Surrounded by her loving daughters, the passing of Doris May (Wheaton) (Murphy) Stewart of Saint John, loving wife of the late Thomas D. Murphy (1984) and the late Wilfred D. Stewart (2009), occurred on Friday, April 23, 2021 at the Saint John Regional Hospital. Born on September 15, 1927 in Saint John, she was the daughter of the late Henry and Jane (Harrison) Wheaton.
Prior to her retirement in 1988, Doris was employed in the Serum Depot at the Provincial Lab. She always took great comfort in her faith and was a Lay Reader with the Anglican Diocese for many years. Later in life, she found great comfort and support from her church family at Fundamental Baptist. Doris was a lover of poetry and an avid reader. She was an active member of Chicks Night Out, where she was affectionately known as "Mama Chick" and where many friendships were made. Doris also enjoyed her time spent with her Bridge Club, participating with the King's Daughters and supporting Bobby's Hospice. She always had a strong fashion sense and especially loved her high heels. Doris was known for her love of tea…please be reassured Doris, that the kettle will always be on!
Doris will always be lovingly remembered by her daughters, Karen Steele (Bruce) and Janet Corbett (Robert); five adored grandchildren, Jennifer Taylor (Andrew), Patti Steele (Jason), Alyson Steele (Bradley), Jeffery Arseneault (Megan) and Jordan Arseneault; six precious great-grandchildren, Mackenzie Taylor, Anderson Taylor, Olivia Steele, Charlotte Steele, Noah Arseneault and Lauren Arseneault; sister, Eileen Sweezey; step-children, Laverne, Donna and John; special step-grandson, Jamie Stewart; along with other step-grandchildren; step-great-grandchildren and several nieces and nephews. Besides her parents and first and second husbands, she was predeceased by her sister, Jean Cullins and step-children, Doug and Robin.
Although there will be no visitation, relatives and friends are invited to attend the funeral service which will be held from Fundamental Baptist Church, 1170 Sand Cove Road, Saint John on Tuesday, May 25, 2021 at 11:00 AM at which time COVID-19 protocol will be followed. For those unable to attend, the service will be livestreamed and can be viewed by visiting the churches' Facebook page or by visiting Doris' obituary on Brenan's website. Interment will take place in Cedar Hill Extension Cemetery at a later date. Arrangements are under the care and direction of Brenan's Funeral Home, 111 Paradise Row, Saint John (634-7424).
In lieu of flowers, remembrances may be made to Bobby's Hospice or the Saint John SPCA Animal Rescue. Online remembrances and condolences may be placed at www.BrenansFH.com.