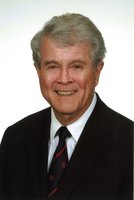 Dr. Norman "Norm" Garey
GAREY, Dr. Norman
It is with profound sadness that we announce the passing of Dr. Norman Garey on April 27, 2021 at Bobby's Hospice in Saint John.
Norm was born on June 29, 1940 in Saint John, New Brunswick, the first of three boys born to John and Hortense O'Connor Garey. He was the eldest of a large generation of cousins and remained close to the Garey and O'Connor families his whole life, exceedingly proud of his Irish heritage.
He was educated at Saint Rose's School and St Malachy's High School and went on to study biology at St Francis Xavier, the first in his family to go to university. He graduated in 1962 and wore his beloved "X-ring" proudly. Norm went to medical school at Dalhousie University and there he made lifelong friends; they met every year for a weekend of fun somewhere in the Maritimes to reminisce about the past and embellish the stories. He married his high school sweetheart, Patricia Watts, while still in medical school, and become a father with the birth of his daughter, Caroline. After he was awarded his MD, Norm interned at the Saint John General Hospital and received the Emerson award for his exemplary work. Norm moved with his young family to Toronto and spent many long shifts learning his paediatric specialty at the Hospital for Sick Kids and was made Assistant Chief Resident. Norm and Pat had their second daughter, Maureen while in Toronto. They returned to Saint John and Norm began his practice in paediatrics. With the birth of his son Stephen, the family settled into life in Millidgeville.
Norm was a caring and ambitious doctor. Noting the many challenges faced by patients suffering with cystic fibrosis, he established and became the first Director of the Cystic Fibrosis Clinic in New Brunswick. This was a defining time for Norm as a doctor for which he was very proud. Over the course of his career, Norm attended and presented at conferences internationally, furthered his clinical abilities with sabbaticals and brought the latest treatments to his patients. He also lent his skills in the community as the doctor for Camp Glenburn. Norm was also Chief of Paediatrics at the Saint John Regional Hospital where he served for 11 years. Committed to clinical excellence and education, Norm trained many new doctors in his role as Assistant Professor of Paediatrics at Dalhousie University Medical School.
Norm served on numerous boards and committees and was President of the Saint John Medical Society, the New Brunswick Medical Society, and the St Patrick's Society. He was a Board member of the Saint John Regional Hospital, the Canadian and Irish Paediatric Societies, and several city and personal committees. He was also a member of the Union Club, the Parrtown Club, and the Royal Kennebecasis Yacht Club. His community service and commitment to his profession meant people knew him everywhere he went, and it was a regular occurrence for him to be approached by people on the street, in NB and further afield, thanking him for his care.
Norm was a lifelong learner and had many interests, including genealogy, music, world history, politics, reading and sailing. He enjoyed researching his Garey and O'Connor family histories, as well Patricia's family, the Watts and McInerneys, and was delighted to share his learnings. He travelled extensively in North America, and Europe, sailed in the Caribbean and researched the history of everywhere he went. While his favourite places for travel were Vienna, Boston and Ireland, Norm loved Saint John and was a regular lunch time visitor to the Saint John City Market and the Union Club. Norm was a huge supporter of New Brunswick politics and had many wonderful opportunities volunteering with elections. A community and family man, Norm was thrilled to celebrate his 50th wedding anniversary with his wide circle of friends and relatives. Norm was happiest in the company of his family, and especially his children and grandchildren.
Norm is survived by his wife, Patricia (Watts) Garey and his beloved children Caroline (Stuart) of Toronto, Maureen (John) Pappas of Saint John and Stephen of Toronto. He also leaves behind his much-loved grandchildren, Michael, Julia, Ben, Mia and Bella. He is survived by his brother Dr. William Garey, who resides in Kansas with his wife Elaine, his nephews and nieces (John, Kathleen, Michael, Deb, Eileen, Rick and Ryan, Tim, Nadine and Denise) and many cousins, grand nieces and nephews, colleagues, neighbours and friends. Norm was predeceased by his parents, his younger brother Terrence Garey, his in-laws, Harold and Marion Watts, and his brother-in-law Michael Watts.
Arrangements are under the care and direction of Brenan's Funeral Home, 111 Paradise Row, Saint John. Visitation will take place on Friday, May 7, 2021, from 2pm-6pm at Brenan's. Guests are asked to enter the building through the courtyard entrance, where staff will greet and assist you with COVID-19 protocol. Please be mindful of social distancing while you wait to pay your respects to the family. A Funeral Service will be provided by family member Msgr Brian Henneberry at Holy Redeemer Church on Saturday, May 8, 2021 at noon, with interment in Holy Cross Cemetery. Donations in Norm's memory can be made to Cystic Fibrosis Canada, Bobby's Hospice, or the charity of the donor's choice. Online remembrances and condolences may be placed at www.BrenansFH.com