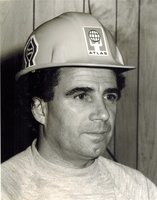 Hernani A. D. Nunes
It is with great sadness that the family of Hernani Nunes, husband of 64 years to Dalila Nunes, announces his passing at Rocmaura Nursing Home, on May 2, 2021. Born in Sever do Vouga, Portugal on February 7, 1934, he was a son of the late Armindo Duarte Nunes and Maria de Asçensão Alves.
After moving to Canada in 1956, Hernani exchanged his jobs as a tailor and a barber for a career in construction, specializing in carpentry, masonry, and bricklaying. He was a tenacious and precise worker. He took pride in everything he built, including the LEGO houses he built with his youngest grandson, which he used to teach him the importance of a proper foundation. Hernani was the most creative problem-solver, who was always able to find the best way possible to get any job done right. At home, Hernani was a supportive, devoted father, never missing a sports game or piano recital. Hernani was also an avid sports fan who loved watching the Blue Jays, the Maple Leafs, and soccer. He enjoyed fishing and being outdoors. Hernani was known as the dominoes champion of his family; you could always tell he was about to play his winning move when he started whistling during his turn.
Hernani is survived by his faithful wife, Dalila; his children: Carlos (Kim), Daniel (Natalie), and Ana Maria (Darin); his grandchildren: Nick (Sara), Marasia, Hannah, Sam, Juliana, and Alex; his siblings: Rosa (Ovidio), Bartolomeu (Eduarda), and Bina (Miguel); and several nieces and nephews. Besides his parents, Hernani was predeceased by his brothers: Miguel (Adelaide), Artur (Maria), and Antonio.
Hernani's family would like to thank the doctors, nurses, and staff at both Rocmaura's Trinity Court and Saint John Regional Hospital for their kindness, unwavering care, and support.
Resting at Brenan's Funeral Home, 111 Paradise Row, Saint John, NB (634-7424). Guests are asked to enter the building through the courtyard entrance, where staff will greet and assist you with COVID-19 protocol. The funeral service will be by invitation only. For those unable to attend the funeral, the service will be livestreamed and can be viewed by visiting Hernani's obituary on Brenan's website beginning on Friday, May 7th at 2pm. Interment will take place in St. Joseph's Cemetery. For those who wish, donations in Hernani's memory can be made to Rocmaura Nursing Home or any charity of your choice, and online condolences can be placed at www.BrenansFH.com.