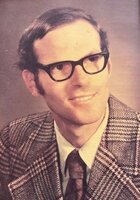 James Golding
GOLDING, JAMES DOUGLAS
Age 77, of Fredericton, NB, died suddenly and unexpectedly of a stroke and heart attack on Monday, September 20, 2021. Born in Saint John, NB, on May 19, 1944, Jim was the beloved and only son of the late Douglas W. Golding and Estella M. (Flower) Golding.
He is deeply mourned by his older sister Janet (Christopher) Hawkins, of Halifax, NS, niece Catherine (Christopher) Vincent, their children Oscar and Margo, of Canmore, AB; his younger sister Mary Jane (Gary) Case, of Grand Bay-Westfield, his nieces Andrea Case (Brian Arthurs) and Meghan (Scott) Weatherhead, their son Connor, all of Saint John; special cousins: Peter (Wendy) Kent, their son Darryl (Joe Ann) of Fredericton, Margo (Peter) McNamara and family of Thornbury, ON, Margaret-Ann Corbett of Scarborough, ME, Robert (Janet) Corbett and family of Gagetown, as well as cousins in NB, ON and MA.
Janet and Mary Jane will remember Jim as their peacemaker brother, with his loving disposition, quick sense of humour, generosity of spirit and sneaky April Fool's pranks. His school years were filled with high grades, competitive running and piano lessons. Memorable summer holidays were spent with cousins at the Golding grandparents' cottage in Belmont and with the MacMann family cousins at Cambridge-Narrows. At Saint John High School, Jim played a robust trombone in Paul Murray's band and he delighted the audience with his puffed up performance of Pooh Bah, Lord High Everything Else, in the musical, The Mikado.
In 1966, Jim graduated from UNB Fredericton with a Bachelor of Arts, Honours English and History. Shortly afterward he suffered a traumatic brain injury that robbed him of his short term memory and much more. He stoically overcame this loss by keeping meticulous notes in a daily journal, a practice he continued until his death. Jim and our mother made a home together in Fredericton after the death of our father and remained there until our mother's move to a nursing home in her early '90's. For the past fourteen years, Jim lived independently and contentedly in his own apartment, all the while struggling with increasing memory loss. His family will forever remember their precious brother, uncle, great-uncle and cousin for his kindness and compassion to others less fortunate, his sincere expressions of gratitude for any help that he was given and his brave determination to live life as best he could on his own terms.
Arrangements are under the care and direction of Brenan's Funeral Home, 111 Paradise Row, Saint John, NB, (634-7424). A memorial service will be held on Friday, November 5, 2021 at 12 pm in Brenan's chapel with visiting being held 1 hour prior to service time. Due to Covid-19 health measures placed on indoor gatherings by the Government of New Brunswick, all those 12 and older attending the service will be required to show proof of vaccination and a piece of a government-issued ID or proof of medical exemption. Private interment at Fernhill Cemetery. Memorial donations may be made to Meals on Wheels, Fredericton, NB, or to a charity of the donor's choice. Online condolences may be placed at www.BrenansFH.com