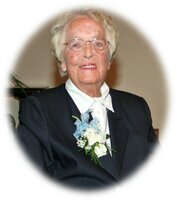 Sister Ludovica Helena Gallivan
Sister Ludovica Helena Gallivan (Sister Mary Cecilia) peacefully went home to her God on Saturday, October 2, 2021 at Ruth Ross Residence in Saint John, NB. Born in Deerville, NB on July 17, 1918, she was the daughter of the late Patrick and Anna (Staten) Gallivan.
She entered the Sisters of Charity of the Immaculate Conception on September 8, 1937. She taught piano and violin in Fredericton, Johnville, Moncton, St. Stephen and Digby, NS. She also cared for the children at St. Patrick's Orphanage, Silver Falls, as well as seniors at the Mater Misericordia Home in Saint John. Later, she offered her gifts and talents in Parish Ministry in Fredericton and Johnville, facilitating Catechetics, Adult Faith Formation and Pastoral Care. She returned to St. Vincent's Convent in Saint John and continued to offer her musical talents and care for the Sisters.
Affectionately known as "Sister Ludie", she welcomed all with her warm smile and laugh. Wherever Sister Ludie went, music and singing were sure to follow, and her homemade fudge was a delightful treat at any gathering. Throughout her life, she was involved in many social justice issues and until recently, continued her interest in world events and crossword puzzles. Sister Ludie was a woman of profound faith, and she lovingly shared her relationship with her God with those whom she met. It was said, "She simply brought out the best in you."
She was predeceased by her parents, Patrick and Anna Gallivan; her brothers, Earl, Basil, Leo, Patrick and Mark and sisters, Sr. Elizabeth Gallivan, scic, Mary and Maria.
She is survived by her sister-in-law, Anna (Basil) Gallivan; nephew, Patrick (Susan); nieces, Theresa and Cathy; great-nieces, Molly and Laura and great-great-nephew and niece, Owen and Maggie.
Arrangements are under the care of Brenan's Funeral Home, 111 Paradise Row, Saint John, NB (634-7424). A Graveside Service will take place on Tuesday, October 5, 2021 at 10:00 AM in St. Joseph's Cemetery, Saint John, NB. For those unable to attend the service, it will be livestreamed and can be viewed by visiting Sister Ludie's obituary on Brenan's website prior to the service on Tuesday morning. Online condolences may be placed at www.BrenansFH.com.