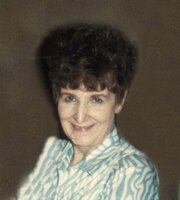 Audrey Mary Jordan
JORDAN, Audrey Mary
With sadness in our hearts, we announce the death of our cherished sister and dear aunt, Audrey Jordan, which occurred on Thursday, November 18, 2021, at Tucker Hall, Shannex, Saint John.
Born in Indian River, PEI, Nov 08, 1930, she was the daughter of Frank Jordan and Effie (McKinnon) Jordan.
Audrey is survived by her sisters, Beatrice Kennedy, Dolly Scott and June Gillis- all of PEI, along with many nieces and nephews in PEI, Saint John, Quebec, Alberta and the US. Also her very good friend Margaret Whittaker and her family.
She was predeceased by brothers and sisters- Bill, Bruce and Charlie Jordan, Genevieve Caseley, Stella Rinaldo, and Shirley Galbraith and special sister-in-law Kay Jordan.
Audrey followed her brother Bruce and his wife Kay to Saint John at an early age, and found employment at Tobin's Snack Bar on Union St., where she worked for 34 years.
She would walk to work- rain or snow- to open up and start coffee and breakfast for many of Saint John's business owners and workers in the uptown area.
She enjoyed her work and always had a smile to go along with the coffee and toast. It was always a treat for us nieces to drop in and see Aunt Audrey and have a coke and donut as we sat at the counter.
She could be found at the Legion with Bruce and Kay on many Saturday nights and always on Remembrance Day. She loved to dance and have fun.
Audrey returned home to PEI for 2 weeks each summer and had many happy times and good memories with her sisters, brothers, nieces and nephews and their families. She will be deeply missed and forever loved by all.
Prior to her residence at Shannex, Millidgeville, Audrey lived at Stephenson Tower for many years.
A special thank you to the staff at Mayfield Court Tucker Hall, for your care and compassion to Audrey over the past year.
Arrangements are under the care and direction of Brenan's Funeral Home, 111 Paradise Row, Saint John, NB, (634-7424). As per her wishes, there will be no visiting. Cremation has taken place and her ashes will be taken to PEI for burial. A service will be held at Brenan's Chapel Paradise Row, Tuesday, November 23, 2021 at 2:00 pm. Due to Covid-19 health measures placed on indoor gatherings by the Government of New Brunswick, all those 12 and older attending the service will be required to show proof of vaccination and a piece of a government-issued ID or proof of medical exemption. Donations in Audrey's memory may be made to the Canadian Cancer Society or the charity of donor's choice. Online condolences may be placed at www.BrenansFH.com.