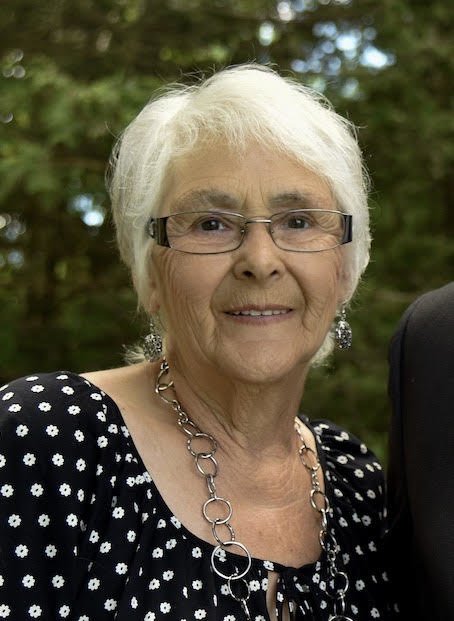 In Memory of
Betty Gertrude St. Onge
1939 - 2020


Obituary of Betty Gertrude St. Onge
It is with great sorrow that our family announces the passing of Betty G. St. Onge. At the age of 80 she passed away peacefully, surrounded by her daughters, on June 1st, 2020, while in the care of Bobby's Hospice in Saint John, NB.
Betty was born on July 11, 1939 in Chipman, NB to Thomas and Iva (Ferris White) Gillard. She moved to Saint John at the age of 14, where she later met Donald St. Onge while they were working at the East Saint John Hospital. They were married in 1958, after 54 years of marriage, Donald passed away in 2013.
Betty's work-life included the East Saint John Hospital, Dominion, and 22 years at St. Joseph's Hospital in the cafeteria, and later in the blood lab. She was a dedicated worker and enjoyed making a difference in people's lives through kindness and empathy. Both Betty and Don worked at St. Joe's, and anyone who worked there during this era would have known them well.
Betty was a devoted mother first and foremost. She treasured her children and through her giving and loving way, taught them kindness and love. She especially cherished her role as Nana, and embraced every moment with her grandchildren. She had a favorite saying, "What happens at Nana's, stays at Nana's", and always made her grandchildren feel special and loved. She had a caring personality and nurtured many lifelong friendships. She touched many lives and many hearts, always leaving a lasting impression.
Betty had a soft heart for animals from a young age, and it wasn't uncommon to come for a visit and meet a new furry family member she recently rescued. She would always defend herself with "Really, I was going to find it a good home, but I just fell in love!", to which her children would respond "Mom, you are one cat away from being a 'crazy cat lady'!". She was active with and donated to many animal rescue agencies, and was a huge advocate for no-kill animal shelters.
Betty is survived by and will be painfully missed by her three daughters and their husbands, Susan MacPhee and Paul Wetmore, Pamela St. Onge and Andrew Pyle, and Michelle and Louis Ouellette. She also has a son Ron St. Onge, and his wife Rita in Wasaga Beach. She has 10 grandchildren whom she loved dearly and is going to miss watching them embrace life: Phil, Tiffany, Lindsay, Ronnie, Joshua, Tanya, Chloe, Benjamin, Mathieu and Maxim. She leaves behind 9 great-grandchildren: Joshua (Austin), Casey, Connor, Rachael, Nicholas, David, Sophie, Benjamin, and Tristan.
Betty and her daughters would like to extend a heart-felt thank you to the wonderfully skilled and compassionate staff at Bobby's Hospice. They provided her and her family comfort, care, humor, understanding and positivity. We could not be more grateful.
Arrangements are under the care of Brenan's Funeral Home, 111 Paradise Row, Saint John, NB (506-634-7424). A Celebration of Life will be planned, and a date will be announced once Covid-19 restrictions have lifted.
In lieu of flowers, please feel free to donate to Bobby's Hospice, a facility dear to Betty's heart. Please click on the link to our fundraiser set up to benefit this charity. Bobby's Hospice: https://www.canadahelps.org/en/pages/bobbys-hospice-support-compassionate-care/


Share Your Memory of
Betty