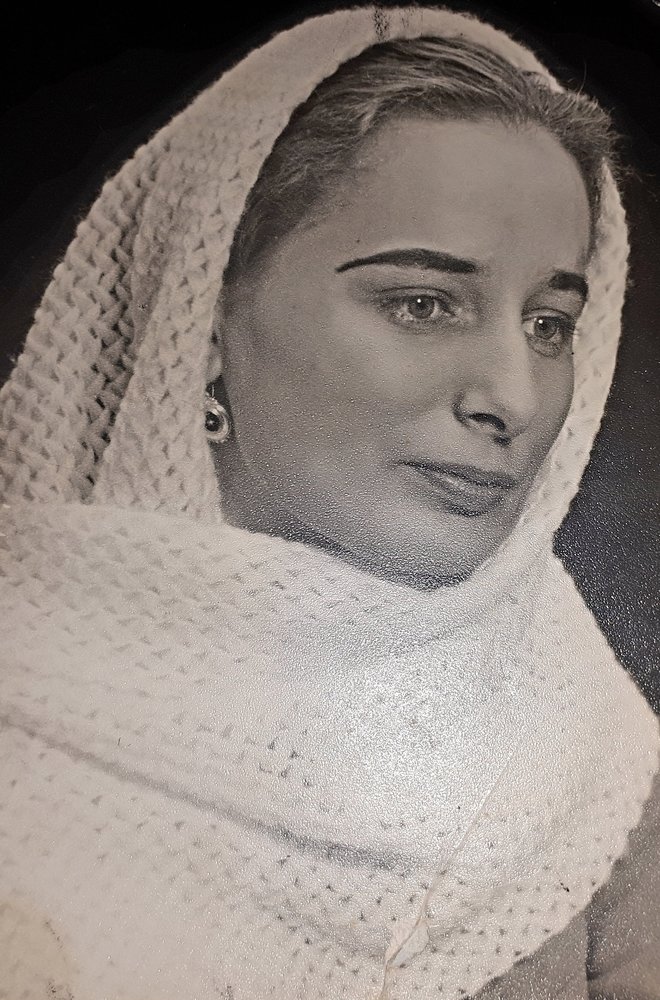 In Memory of
Helga Maria Borsic
1937 - 2020


Obituary of Helga Maria Borsic
Helga Maria Borsic
September 7, 1937 – Küstrin, Germany
June 2, 2020 – Saint John, New Brunswick
Our beloved mother, Helga Borsic (née Schmid), 82, of Mallette Road, Saint John, was called to heaven on June 2, 2020. Helga was a vibrant woman and a loving wife and mother.
Helga was born in Küstrin, Germany on September 7, 1937. She was the daughter of the late Johann and Gertruid Schmid and the second of 5 children.
After World War II, Helga and her family moved to München, Germany, where Helga grew up. Helga was a beautiful and energetic young woman who loved zooming around München on her moped. When Helga met her future husband, Milan "Mike" Borsic from Croatia, he was immediately smitten by her stunning blue eyes, mischievous smile and zest for life. Soon Milan was regularly riding on the backseat of Helga's moped and the two fell in love. When Milan finally convinced Helga to allow him to drive the moped, he crashed it the first time he took the helm, or at least that's how Helga always told the story.
Milan, a pipefitter, sailed to Canada to find work and Helga soon followed. They were married in Saint John, New Brunswick on May 13, 1961. Helga and Milan started their new life together with little money and few possessions, but they were happy and would be forever grateful to their adopted country of Canada for giving them the opportunity to make a better life for themselves.
Helga and Milan soon welcomed their first child, Silvia. Helga learned to read and write English by watching children's television programs with Silvia. Helga's innate courage and determination shone through as she taught herself a new language while a first-time mother in a new country far away from her family.
Because Helga and Milan had no family in Canada, they formed their own family with other Saint John immigrants. The strong bonds that Helga and Milan developed with families like Bursich, Cerne, Govic, Knappic, Pascon, Petak, Tanfara, Zigante and others would last a lifetime.
In the 1970s, Helga and Milan had their second child, Susan. They also bought their first home on Mallette Road after years of pinching pennies to save up for a down-payment. Prior to making the move to Mallette Road, they had rented apartments and made lifelong friends on Prince Edward and Charlotte Streets and in Rockwood Court.
Helga started working at St. Joseph's Hospital soon after arriving in Saint John and she later worked at the Brunswick House. She worked the night shift for years so that Milan would always be home with the children when she could not be. In addition to her full-time work outside the home, Helga was devoted to taking care of her family. She willingly and without complaint served as cook, housekeeper, nurse, teacher, taxi driver and much more for her family.
After retirement, Helga and Milan enjoyed trips to Europe and could be found most days swimming and aquacising at the Aquatic Centre. After Milan passed in 2008, Helga's passion for swimming and aquacise continued at the Aquatic Centre and later at the YMCA. She also took up bowling in winter, lawn bowling in summer and frequent "coffee club" gatherings with her friends. Helga always kept active and made friends wherever she went. At the age of 79, she took a Caribbean cruise with friends and danced the night away with young people who couldn't keep up with her energy. Helga remained this vital and full of life until her final days.
Helga's greatest love was her family. She will be sadly missed and dearly remembered by her daughters, Silvia Borsic of Saint John and Susan Borsic (Gregor Enser) of Calgary, Alberta. She also leaves behind one sister, Marlies, one brother, Dieter, as well as several nieces and nephews. Helga was predeceased by her loving husband of almost 47 years, Milan, as well as her dear parents, one sister, Anita, and one brother, Wolfgang.
Arrangements are under the care of Brenan's Funeral Home, 111 Paradise Row, Saint John, New Brunswick, 506-634-7424. Due to COVID-19, Helga's daughters will welcome Helga's friends and neighbours to join them for a celebration of Helga's life at a later date. Given the current circumstances, you are encouraged to visit www.BrenansFH.com to sign the on-line family guest book, offer condolences and share photos and memories. Donations in memory of Helga can be made to the Heart and Stroke Foundation of New Brunswick or the Saint John SPCA Animal Rescue.


Share Your Memory of
Helga