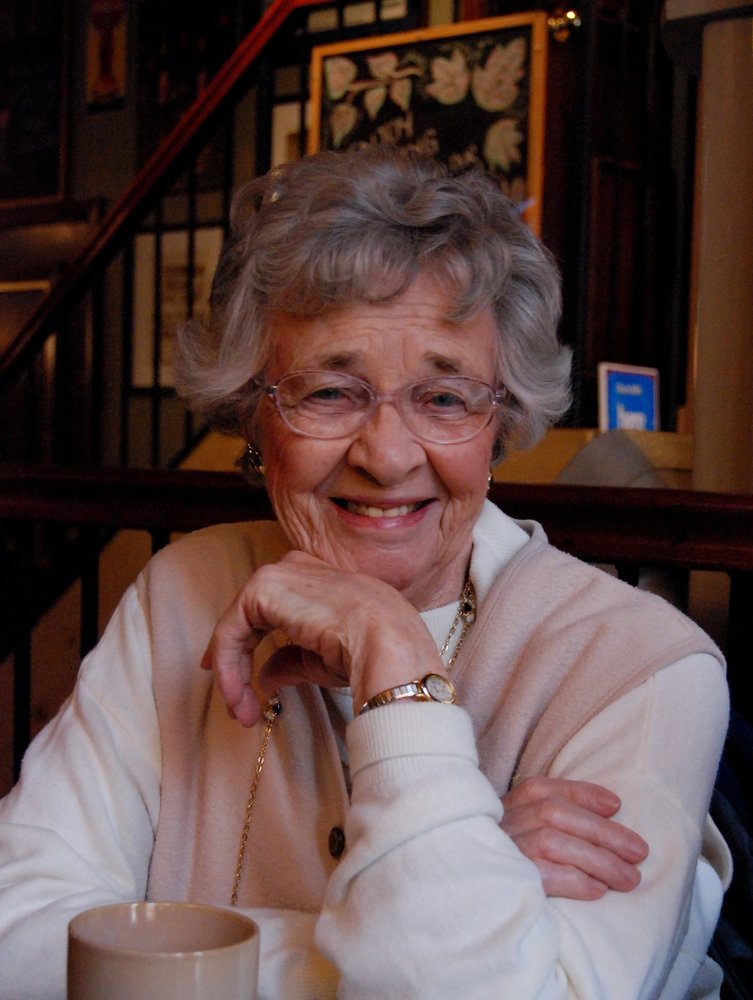 In Memory of
Elizabeth Ann LaRocque
1920 - 2020


Obituary of Elizabeth Ann LaRocque
On June 3, 2020, Elizabeth LaRocque, loving devoted mother of six children, passed away at the age of 99, only 6 weeks before her 100th birthday.
Elizabeth (Betty) Fortune was born on July 14, 1920, in Saint John, New Brunswick to James and Evelyn Fortune [Quinlan]. She married Gordon LaRocque, from Ontario, in 1941 and they lived in Saint John most of their married lives. They raised first three girls: Patricia, Beth, and Joanne ... followed by three boys: Gordie, Peter, and Paul. All six feel deep sorrow to see their beloved mother depart. This loss is also shared by Grace LaRocque (Paul), Erni Satalic (Peter), Jenny Kain (Gordie), and Jeff Telfer (Joanne).
Betty lived on Elliott Row until she was 20, and had commenced training in nursing. She and Gord resided in Bedford/Halifax during the war, also Campbellton, then St. Stephen prior to settling in Orange Street from 1959 to 1992. Busy family years, their lives revolved around a large extended family and a community of friends, as well as a love of outdoor activities. Betty also felt a passion for her music. Betty and Gord were active in the Cathedral Parish, and with helping others. They cherished their travels to visit family in Canada and the U.S. After their children were raised, Betty and Gord widened their travels with some winters in Florida, and with trips to Spain, Cuba, and England.
When Gord died (1992), Betty took up independent living at 'The Admiral Beatty' (Grammy's Hotel). Living Uptown again, she enjoyed the Imperial Theatre and other local venues for musical plays and concerts, as well as the City Market, community events, and her lifelong friends. Betty was healthily engaged with life, with people, and with issues of importance. Betty shared her good nature and 'played the hand she was dealt' (she was an expert at cards: Bridge, 45s) ... Betty went with the flow but never hesitated to speak her mind or add a clever quip or truism, with occasional feistiness. Her grandchildren continued to be recipients of her lovingly knitted mittens, as well as those truisms, and values, when they were a bit older.
Betty lived at Loch Lomond Villa since 2015, where she received excellent care. And where the large family celebrations continued as they had at the Beatty and on Orange Street. Betty continued displaying her unique traits of being gracious and resilient and contented, gleaned from experience and due to some internal fortitude during a rare life lived nigh on a century.
Betty was also preceded in death by her five siblings, in order commencing in 1939: Emma; Douglas; Frank; Constance; Jim 'Cecil' in 2010. Betty was the last surviving grandchild of Jeremiah Quinlan, born six years after his family arrived from Ireland on the Bay of Fundy shores in 1837. She was the wonderful Aunt Betty to 39 people. Betty leaves behind a tremendous family legacy of love, faith and loyalty in her six children, fourteen grandchildren, and nineteen great-grandchildren.
Another love of Betty's was flowers, particularly lilacs. It is fitting that Betty leaves with 2020's lilacs in full bloom ... as Betty's life was - fragrant, beautiful, and in full bloom.
There will be a Zoom memorial for our dear Mom at a later time.
In lieu of flowers in these days, the family encourages people to give generously to your local food bank.


Share Your Memory of
Elizabeth