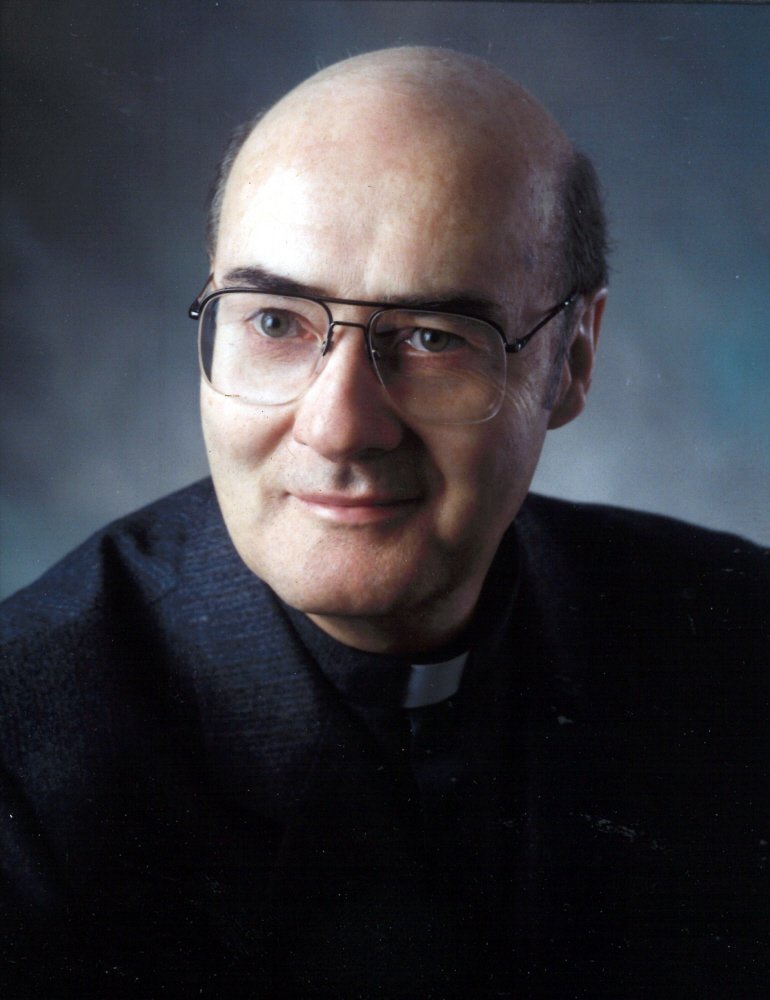 In Memory of
Rev. Raymund Joseph Stack
1929 - 2020


Obituary of Rev. Raymund Joseph Stack
With saddened hearts, the family of Rev. Raymund Joseph Stack would like to announce his death, after a lengthy illness, which occurred on Saturday, June 6, 2020 at St. Joseph's Hospital in Saint John, NB. Father Stack, a retired priest of 64 years with the Diocese of Saint John, was born in Saint John on May 18, 1929 and was the second oldest child of the late William J. and Estella J. (McDuff) Stack.
After graduating from St. Joseph's University, he began theological studies in Holy Heart Seminary, Halifax, NS. Father Ray was ordained a priest in the Cathedral of the Immaculate Conception by the Most Rev. Alfred B. Leverman, Bishop of Saint John, on May 26, 1956. After ordination he served as curate to St. Rose Parish, Saint John, from 1956 to 1960. He then was assigned as curate to Holy Trinity Parish, Saint John, from 1960 to 1963. After a year in St. Francis Xavier Parish, Sussex, he then began serving as curate to Stella Maris Parish, Saint John, from 1964 to 1967. In 1967, Father Ray was appointed administrator of St. Augustine's Parish, Westfield. From 1969 to 1974 Father served as pastor of St. George's Parish, St. George. In 1974 Father Ray was appointed pastor of St. Theresa's Parish, Fredericton. After leaving Fredericton, he began studies in Family Counselling at St. Paul University, Ottawa, ON, from 1975 to 1976. He then returned to Saint John serving at St. Pius X Parish (1976 to 1977), followed by the Cathedral (1977 to 1981) where he was chaplain to the Saint John General Hospital. In 1981 he was appointed pastor of St. John the Baptist Parish, Saint John, where he served until 1996. While at St. John the Baptist Parish, Bishop Troy at that time, asked Father Ray to train and lead the Ministry of the Deaf for the Diocese. His final assignment was as pastor of St. Ann's Parish, Saint John, from where he retired in 2002. Father Ray continued to be a member of the Knights of Columbus and provided continued support and guidance to Alcohol Anonymous where he assisted many individuals.
Father Ray was a kind and gentle man who treated everyone with friendliness, compassion, and respect. He was loved by all. He made friends with people from every walk of life and always remained faithful to each of his friends. He had an amazing skill of remembering everyone's name and he had the ability to make you feel appreciated and welcomed. He was well recognized in all the communities where he was posted. Father Ray was never without a funny story recalling situations that he had witnessed or he, himself, had taken part in. He was particularly kind and supportive to the priests who came after him and to the parish staff with whom he worked. He will be deeply missed by all.
Father Ray had a passion for the arts, classical music, and literature. He was a long-time contributor to the Saint John Imperial Theatre. Throughout his life, he was very kind to many Canadian charitable organizations.
Father Ray will be remembered also by many as a teacher who often assisted in local schools, including St. Peter's Intermediate and St. Malachy's, after having obtained a Bachelor of Education Degree from the University of New Brunswick in 1972. As well he will be remembered by many as a visiting priest who frequently covered for his brother priests who were sick or on vacation.
Father Ray is survived by his two sisters, Noreen E. (Charles "Bud") Cavanagh and Margaret M. (William) Wiseman, nephews Mike (April) Cavanagh, Tim Cavanagh, Andrew (Carrie) Cavanagh, Peter (Josee) Cavanagh, Dr. Paul (Aya) Wiseman, and nieces Dr. Mary Ann Wiseman (Dr. Michael Brown) and Dr. Maureen Wiseman, as well as several grand nephews and nieces.
In addition to his parents, Father Ray was predeceased by his brothers Father Bernard W. Stack and James M. Stack as well as very close friends Father Paul J. Riley and James Wilson.
The family would like to express their appreciation to all of the 5th floor St. Joseph's Hospital medical and support staff for the care of their brother in the last few months of his life. In particular the family would like to express their gratitude to Dr. Elizabeth MacDonald and charge nurse Lynda Parks. The professionalism and dedication displayed by all 5th floor staff was exceptional.
Arrangements are under the care and direction of Brenan's Funeral Home 111 Paradise Row, Saint John, NB. (634-7424). Visitation, open to the public, will take place in the Cathedral of the Immaculate Conception, 91 Waterloo St, Saint John on Tuesday, June 23, from 3 pm to 6 pm. Strict COVID19 protocols will be observed.
Solemn Vespers will be celebrated in the Cathedral of the Immaculate Conception that evening at 7:00 pm. This will be by invitation only, again observing COVID19 protocols.
A funeral Mass will be celebrated in the Cathedral of the Immaculate Conception on Wednesday, June 24, at 11:00 am. This also will be by invitation only in observance of COVID protocols. Father Ray's funeral will be livestreamed on the Diocesan website.
Burial will follow in the Priests' Plot of St. Joseph's Cemetery. This is open to the public and COVID19 protocols will be observed. A reception is not planned at this time.
A Memorial Mass to celebrate Father Ray's life will be held at a later time when COVID19 restrictions have been relaxed.
In Lieu of flowers, charitable donations in Father Ray's memory can be made to the Alzheimer's Society of New Brunswick or to a charity of the donor's choice.
Online condolences may be placed at www.BrenansFH.com


Share Your Memory of
Rev. Raymund