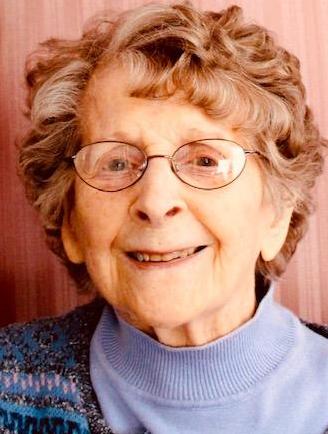 In Memory of
Audrey Louise Gunter
1919 - 2020


Obituary of Audrey Louise Gunter
Audrey (Watters) Gunter passed away at the Saint John Regional Hospital on June 7th, exactly 3 months after her 101st birthday , which she celebrated well with friends and family at Millidge Hall, Parkland. Audrey was a lifelong resident of Saint John, a 1936 graduate of Saint John High School, and, in her younger years, worked at MRA and the Saint John School Board Office. She loved music and sang with the Carriden Choir, attributing her innate ability to harmonize to doing so as a teen while singing and washing dishes with her sister. Skating at Lily Lake and swimming at Morna beach were favourite pastimes. Audrey was the youngest daughter of Edward and Edith (McLeod) Watters of Morna, and sister of Vernor, Edna, Lillian Watters, Ruth Wilson and Edith Ring (all deceased).
In 1960 Audrey married Andy Gunter, enjoying 26 years together, including many travels, until his death in 1986. From 1960 until after her 100th birthday, Audrey lived on Mt Pleasant Ave., taking great pride in her home and in her beautiful garden where she spent many hours working on the steep rock garden. Over the years Audrey explored many hobbies, one of her favourites being refinishing old furniture, and because of her inquiring mind, took many varied courses of interest. Her love of travelling took her to many places, including an Alaskan cruise, a Caribbean cruise, Europe, Finland, California, Bermuda and to Mississauga, Perth-Andover, Fredericton and Miramichi to visit with family. Audrey will be greatly missed by her nephews and their wives, David (Marilyn) Watters, Mississauga, ON; Murray (Jane), Perth-Andover, NB; Ted (Wendy) Ring, Lindhurst, ON; 8 great nieces and 7 great nephews and their families; step son, Harold (Charlotte) Gunter, Sugarloaf, Maine; 8 step grandchildren and their families. Audrey was predeceased by her 2 nieces, Lynn (Norman) Ralston and Jane (David) Chapman and by her 3 step children, Dorothy (Harley) Thompson, Doug (Josephine) Gunter and Garth (Ivy) Gunter.
Audrey's family is very appreciative to her friends, Patti, Wanda and Gary, Debbie and Lillian, who gave Audrey so much love, care and good humour and know they will miss her good nature and independent spirit. The family also want to express their sincere appreciation to the staff of Millidge Hall, Parkland, as well as to the staff of 4B North, Saint John Regional Hospital for their care of Audrey in the last weeks of her life. Cremation has taken place and burial of Audrey's ashes will take place at Fernhill Cemetery at a later date. Charitable donations in Audrey's memory may be made to the MS Society or the Canadian Cancer Society. Online condolences may be placed on Brenan's website.


Share Your Memory of
Audrey