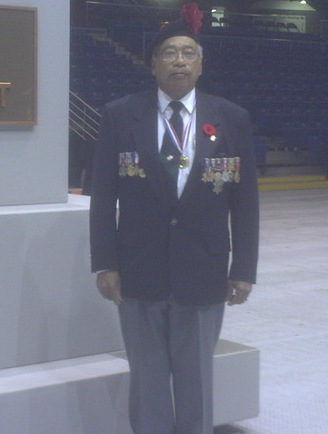 Obituary of Clyde Shepherd
We share with you the peaceful passing of Clyde Winsfield Shepherd, age 95, at Ridgewood Veteran's Wing, on July 12 2020. Clyde was meet in heaven by his wife Verdena Frances Borden, (who passed after him, Aug 28, 2020), his brother Sid Shepherd, his daughter Paula Kyle and her husband Ken, her grandson WD Shepherd, his grandson Michael George, his Aunt Goldie Shepherd. Clyde is survived by his sister Donalda Clement (& family), Vaughn Shepherd (JoAnn), Karen Shepherd, Scherry George (Edwardson & family), Lynn French (Chris & family), Kevin Borden (& family) Bruce Kyle (Tina & family), Dwight Kyle (& family), Joey Brown (& family), Tony Reddick (& family), and Gary Shepherd. Clyde had 8 grandchildren, 13 great grandchildren, and 2 great great grandchildren.
Clyde was the patriarch of 5 generations. He was a private man but loved to "tell stories" to his fellow Veterans and really anyone who would listen. He enjoyed making people laugh. He was in the Saint John Police Reserves; served in the Canadian Army in Canada, Britain and Northwest Europe. Here are some of the medals he received; 1939-45 Star, France & Germany Star, Canadian Volunteer Service Medal w/ Clasp and War Medal 1939-45. Dad liked gardening, painting, and working with and making gadgets. He was also a Master Electrician and could fix just about anything. Later in life he gave his heart to JESUS so we know we will see him again.
We acknowledge Lynn, his daughter, for her care for him with visits and the drives she took him on, while in Ridgewood; to Jerry for helping with drives and visits: and a grateful thank you and our deepest appreciation to the staff(cleaning, kitchen, nurses, administrators, security, etc) who made Dad's stay comfortable. You are to be commended. Per Clyde's request there was no viewing or service.
Dad, JESUS chose you, HIS son, to be a son, brother, husband, father, grandfather, great grandfather, a great great grandfather. Dad thank you for your service during those war years.XOXOXO Here is the poem I gave you Jan 20, 2006
HONORING
You were only a boy. Excited and scared.
Yet, duty bound. Overruled your fear.
You grit your teeth. And braced your back.
Fighting with your all. Not being slack.
Nights awake you stayed. Death around you stalked.
Trying to save lives. Only seemed to mock.
You made it home. With your bruised soul.
The war was done. But the fight took it's toll.
"Thank you", is all I have to give, for your pain.
For all you gave and lost, "Love you Dad, thank you, again."
by Merijka K Shepherd
Dad, we all stand and salute you.


Share Your Memory of
Clyde