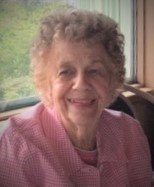 In Memory of
Joy Sherwood
1922 - 2021


Obituary of Joy Sherwood
Born in Hampton, NB, Joy was the daughter of Amedee and Marvel (Meigher) LeBlanc. A resident of Smithtown and Saint John, she graduated from Hampton Consolidated High and attended Modern Business College. Joy was employed by the RCOC and RCEME Army Depot in Coldbrook from 1943 to 1948, for six years by the Board of Insurance Underwriters, and resigned to accept a position with the Unemployment Insurance Commission in March 1967. Upon retiring in 1985, she was presented with a long service certificate from the Federal Government of Canada and also a certificate of participation by the United Way of Greater Saint John for her involvement in this organization. Joy was an active member of the CEIU while employed by the Canada Employment Centre, and was secretary of this local for several years, and an associate member of the Saint John District Labour Council.
An active church member, she held offices of Secretary and also Treasurer for St. Peter's CWL. She actively canvassed for the United Way, Heart and Cancer Funds, and was an associate member of the Saint John Press, Radio and TV Club, and contacted the local city council, members of Parliament and the local newspaper concerning many subjects. After retiring from the Canada Employment Centre, she served as Secretary for the Saint John Branch of the Federal Superannuates National Association. She was keenly interested in politics and actively was involved with the Confederation of Regions Party of New Brunswick for several years.
She was predeceased by her brother, Dennis and sister-in-law, Doris (Maillet) LeBlanc and her husband, Sterling Wellington Sherwood.
Survived by one son, Gregory Sterling Sherwood; two daughters, Linda Marvel Sherwood (John Connor) and Pamela Agnes Sherwood (Stan Devine); as well as several nieces, nephews and six grandchildren.
Resting at Brenan's Funeral Home, 111 Paradise Row, Saint John (634-7424). A private Funeral Liturgy will be celebrated. For those who wish, remembrances in Joy's name may be made to a charity of the donor's choice. Interment will take place at a later date.
www.BrenansFH.com