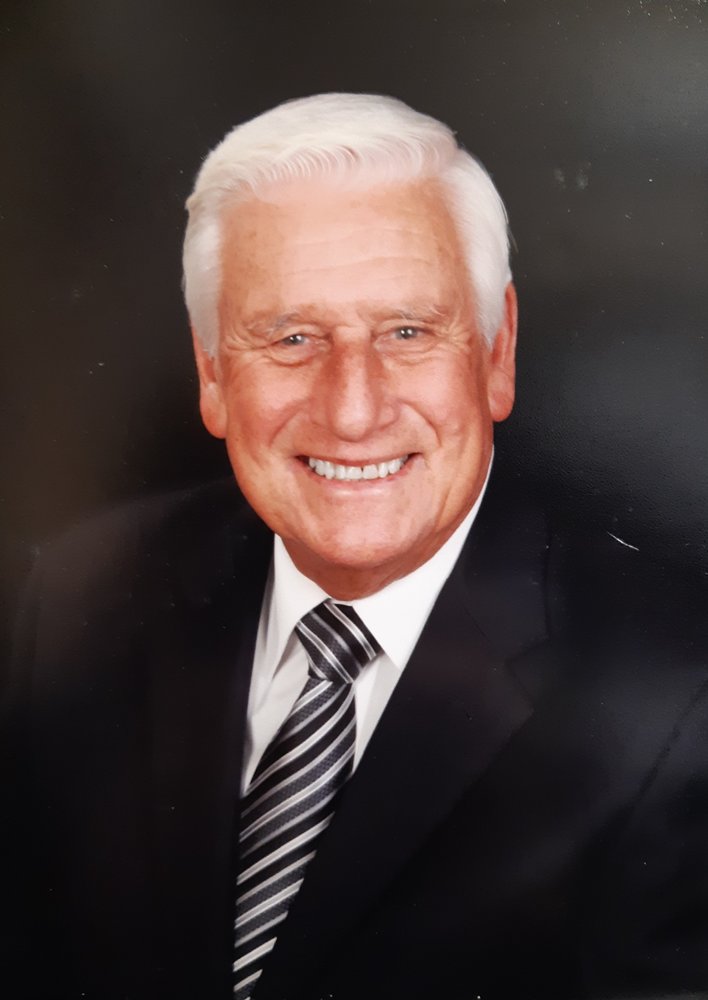 In Memory of
E. Byron Williamson
1936 - 2020
Obituary of E. Byron Williamson
The death of Byron Williamson occurred at his home on March 19, 2020 with his wife Nancy at his side. Byron was born in Scotchtown, Cape Breton on February 22, 1936, a son of the late Thomas and Elizabeth (Nelson) Williamson, and was a very proud Cape Bretoner.
Byron and Nancy were partners in life and owned Diversified Office Services Ltd. for 38 years before retiring in 2018. He had been in the office equipment industry since 1960 and enjoyed his career with Olivetti Canada before establishing his own company in 1980. He was a member of Saint David's United Church in Rothesay.
Byron loved people. Byron and Nancy made many friends on their frequent vacations in Cuba and Barbados. These friends remained in touch until the end of his life.
Byron was a jogger, a guitar player & singer, a swimmer, and an all-round athlete. He was a poet and many of his poems appeared in the Valley Viewer. He loved to present roses to the receptionists of his many clients just to see them smile.
He loved his pool and and always had a glorious display of flowers around it. He fought with the bugs every summer but it was not in his heart to kill them. Byron loved nature, animals and birds – feeding squirrels, raccoons, blue jays, a family of 12 doves, 2 ducks and a crow he called Bernie through all seasons of the year.
Byron was predeceased by his parents Thomas and Elizabeth Williamson; brothers R.J.H. Williamson, Tom Williamson and Tommy Hargraves; his sisters Betty Manzine and Margaret Hebert; his nieces Gina MacAulay and Betty Cox; and his nephews Tim Williamson and Clarence Hebert.
Byron is survived by his wife Nancy of 59 years; and very special friends Chris and Joe Moore, BC, Barb and Bert Lawrence, NS, Betty and Duane Henry of Rothesay, NB, and John Doyle of Saint John. He will be mourned by his nephew Tom Hebert, Richmond Hill, ON; his cousin Bob Arnot, Saint John; a special niece Sandy and her brother Jamie; and his brother Donald. Byron had many nieces, nephews and cousins whom he loved dearly. His family & friends in Cape Breton will miss his many messages. His three cats will notice he's gone.
Arrangements are under the care of Brenan's Funeral Home, 111 Paradise Row, Saint John, NB (634-7424). Due to the current public health crisis, Byron's funeral service will be postponed until a later date and time to be announced. For those who wish, remembrances may be made to a charity of the donor's choice and online condolences may be placed at www.BrenansFH.com
The Only Fun
The only fun is a boy's fun
With or without a care
Who cares if the days go flying by
He always has one to spare.
The world is a young man's apple,
This is so very true:
And when he's offered one thing,
He always yearns for two.
I mean these things I say
For he thinks he owns the world;
And it's so true – the world is his
I know – 'cause I was a boy one day.
-Byron Williamson
Rhymes from Earlier Times


Share Your Memory of
E. Byron