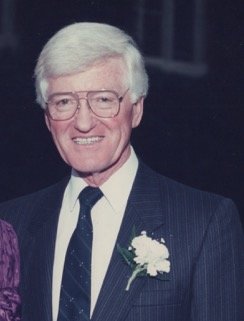 In Memory of
Murley Raymond Allan
1930 - 2020


Obituary of Murley Raymond Allan
It is with sadness that we announce the peaceful passing of Murley Raymond Allan on Sunday, July 19, 2020. But along with sadness is the joy and celebration that, in his 90th year, he had shared a long and happy life with his family who loved him very much. Ray was predeceased by the love of his life, his wife Marie, with whom he shared 54 wonderful years of marriage. After Marie's passing in June 2009, Ray carried on and developed warm and lasting friendships as he moved from living on his own to retirement living in 2015.
Ray was born in Saint John on August 5, 1930 to Alice (nee Armstrong) and Murley Allan. He grew up in the North End and was a graduate of Saint John High School. He then went to work at NBTel where he started as a clerk, was a travelling auditor and eventually moved into management roles within the accounting function. In 1990, when he retired from NBTel, after 40 years of dedicated service, his career was celebrated by the company and the President's tribute was that Ray "was one of those people who walk through an organization and who leave a big footprint". Among his many tributes, Ray was acknowledged for his foresight and intelligence, his fairness, honesty and trustworthiness. Most notably, he was highly regarded for his personal qualities of treating people with respect and dignity, his willingness to always listen to his people, and his great ability to develop people.
Ray had a passion for woodworking and took on the significant challenge of building a 26-foot thunderbird sailboat in the late 1960's. With no previous boat building experience, it took him four years, but in the summer of 1971, he launched the "Kallist" at the Royal Kennebecasis Yacht Club.
Ray so enjoyed spending time with his five grandchildren and they will deeply miss "Grampy" whom they loved so much. He was a wonderful father and role model to his two daughters, Lynn and Ann. He was a true gentleman – with an engaging smile, a dry sense of humour and a generosity of spirit that will be missed by everyone who knew him.
Ray is survived by his two daughters, Lynn Vickers (Robert) and Ann Janes (Brent); his five grandchildren, Beth and Alexandra Vickers and Zachary, Brianna and Samantha Janes.
Due to these unprecedented times, a public gathering to celebrate Ray's life is not possible at this time. However, all that knew him will celebrate his kind spirit and his generosity of heart in their own special ways. His family hope to have a celebration of Ray's life at a later date when gatherings are permitted. Ray's daughters' would like to thank all the friends, staff and caregivers at Shannex, Millidgeville who were so kind and caring to Ray during his five years as a resident. Arrangements are under the care of Brenan's Funeral Home 111 Paradise Row, Saint John, NB (506) 634-7424.


Share Your Memory of
Murley